In-House Clear Aligners
Clear aligners are an effective alternative to traditional braces, because they use a system of clear, removable trays used to straighten teeth. In the past, clear aligner treatment was done by making a mold of a patient's mouth and sending it to an off-site lab for the aligners to be fabricated. Although this process was successful, we wanted to reduce our patients' wait-time to begin treatment, as well as have more overall control over their care.
Thanks to advances in digital technology and 3D printing, we are now able to scan a patient's mouth, create a mold, and create our own clear aligners, right here at our office, saving considerable time and money.
Best of all, our clear aligners are made of the same high-quality material as name-brand aligners, and work virtually the same. Each aligner is custom-made to fit over your teeth and designed to move teeth gradually into their proper position.
How do clear aligners work?
Clear aligners are used as an alternative to traditional braces. They are designed to help guide teeth into proper position. Just like braces, clear aligners use gradual force to control tooth movement, but without any metal wires or brackets. As treatment progresses, you switch aligners. Each is a little different, so your teeth move a little more with every change.
Aligners are worn for at least 20 hours each day, and you'll receive a new one every two weeks. The length of your treatment depends on the severity of your case, and treatment can last anywhere from six months to two years.
Digital Scanning
Our intraoral scanner is a small hand-held wand that digitally obtains the arrangement of the teeth and gums with a radiation-free laser. The scanning process is painless and can be stopped and started as many times as necessary. In addition, this means no more gagging or discomfort for patients, since impression trays and impression materials are no longer necessary!
Scans are typically completed within five to ten minutes and produce a perfect 3D digital impression of your teeth and soft-tissue structures. This information is used to determine your treatment and provides an idea of the finished result with a 3D model of your teeth on our computer screen.
3D Printing
Using your digital scan, we can print models of your teeth right in our office. Once your teeth have been scanned and your treatment path determined, we print models of your teeth at each stage of tooth movement. After we print the 3D models, we have equipment that allows us to make clear aligners for each stage of tooth movement.
If you're interested in orthodontic treatment with our in-house clear aligners, schedule an appointment to determine whether this is the right treatment option for you.
---

ClearCorrect™
ClearCorrect invisible braces are the clear and simple way to straighten your teeth so you can show off your smile with confidence! Looking for an alternative to metal braces? ClearCorrect is the clear and simple choice for patients of all ages. There are no wires or brackets; just clear, convenient comfort that gives you every reason to smile.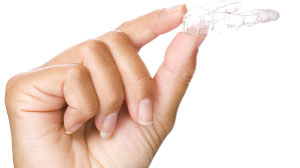 Effortless Convenience
With ClearCorrect, achieving your ideal smile is easy and effortless. Plus, since your clear aligners are removable, you can take them out to brush, floss, and eat your favorite foods. ClearCorrect fits your life and daily routine as perfectly as it fits your teeth, so you don't need to change a thing.
Out of Sight, Out of Mind
Unlike traditional metal braces, ClearCorrect lets you show off your smile while you straighten your teeth. You'll be surprised by how quickly you forget you're wearing your ClearCorrect aligners, and they're so clear that no one else will notice you're wearing them either!
How ClearCorrect Works
After you and your doctor decide that ClearCorrect is the right treatment option to fit your unique goals and needs, you'll send your records, X-rays, and impressions to ClearCorrect. Next, working with us every step of the way, ClearCorrect maps out a customized treatment plan of gradual adjustments that take your teeth from where they are currently to where you want them to be.
You'll wear each set of aligners for a specific amount of time as your teeth gently adjust and align to your ideal smile. You'll visit our office periodically for checkups to monitor your progress until you eventually have the straight smile you've always wanted.
The Choice is Clear!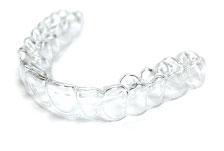 Clear, custom-made, removable aligners that incrementally adjust teeth
Superior clarity
Smooth surface finish withstands clouding from wear
Easily removable
No interruption to eating or routine brushing and flossing
Minimally invasive